Vitabase 7 Day Colon Cleanse - 21 packets
Regular price $22.50 Sale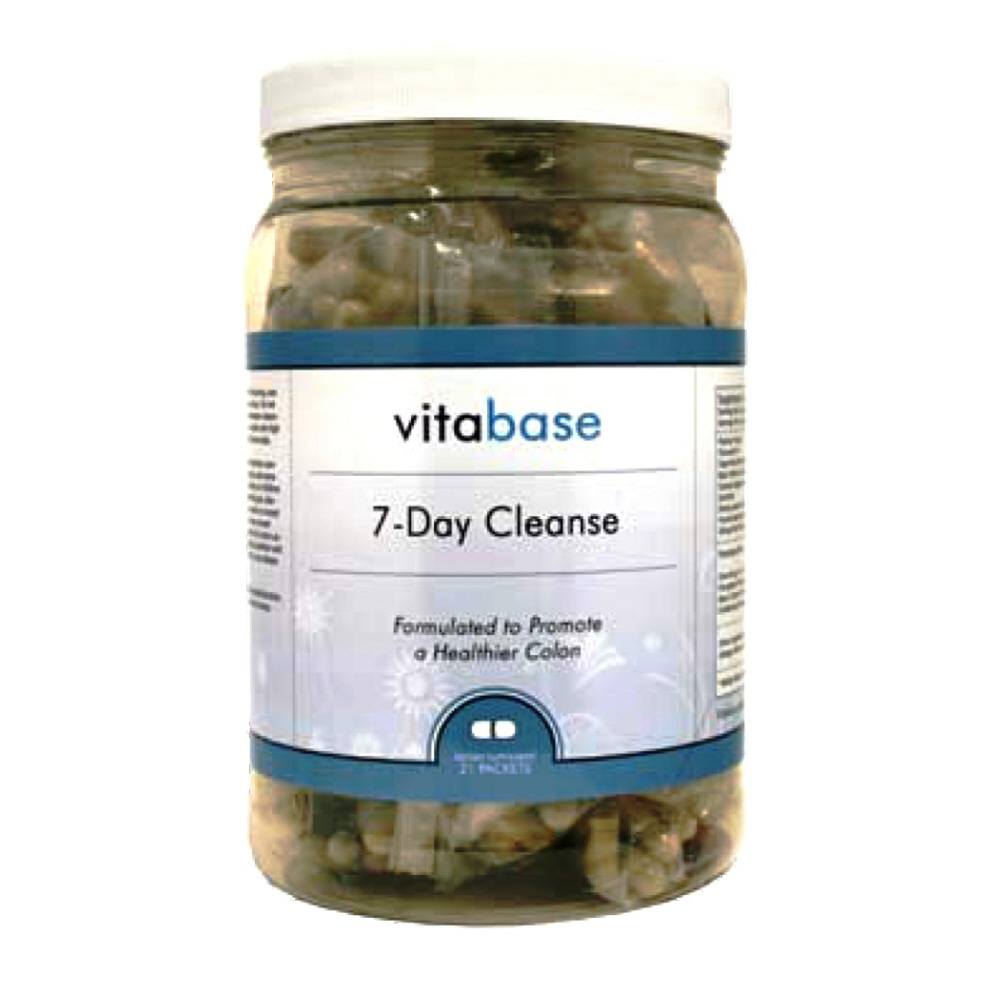 Vitabase 7 Day Colon Cleanse - 21 packets
$22.95
Great Jump-Start to a weight-loss or nutrition program!
All Natural Cleanse for Colon Health
Aids in relieving constipation, excess gas and cramping.

Detoxifies the colon and restore it to regularity.

Enhances nutrient absorption and increases the effectiveness of other supplements.

Should be used once or twice per year for maximum health.

Comes in convenient capsule form - No bad tasting powder drinks!

Contains psyllium, flax seed, cape aloe, black walnut, cascara sagrada, spirulina, senna leaves, fennel seed and many more helpful herbs.

Less expensive and more complete than other colon cleansing products.
---
No other colon cleanse is as complete and as affordable. Why not try the Vitabase 7 Day Colon Cleanse today and begin the road to improved health?
Why You Should Try 7 Day Colon Cleanse
Do you suffer from constipation, unexplainable weight gain or fatigue? Did you know that these problems could be related to the health of your colon?
Are your vitamins and supplements not having full impact on your health? Waste buildup in your colon may be hindering nutrient absorption. Before beginning any nutritional regimen make sure your digestive system is functioning properly with the Vitabase 7 Day Colon Cleanse.
7 Day Colon Cleanse is an all-natural colon cleanse that will help detoxify the digestive system and restore regularity. Doing a 7 day colon cleanse once or twice per year is key to keeping your digestive system functioning properly and eliminating buildup and toxins in the colon.

7 Day Colon Cleanse - A Complete Cleanse
With all the colon products on the market, determining which is best can be difficult. Evaluate several key criteria when choosing a colon cleansing product. Most important, it must be a complete system.
Many colon cleansing products are simply a fiber product and do not contain the natural laxatives necessary for elimination of buildup on the colon walls. Many also do not contain important cleansing ingredients such as flaxseed oil and fennel, which are vital for absorbing toxins and eliminating gas.
Unlike other colon cleansing products, 7 Day Colon Cleanse is designed to be a complete colon cleansing program. First, the natural laxatives (cascara sagrada, cape aloe and senna) and flaxseed oil work to break loose excess buildup on the walls of the colon.
Second, psyllium fiber works to push this waste through the intestine toward elimination. Fennel seed in the formula helps relieve intestinal cramping and gas.
Finally, African bird pepper helps soothe indigestion and reduce any inflammation in the colon. Once the colon has been swept clean, normal function is restored.
Convenience of Capsules Vs Powder
Convenience is also important when choosing a colon cleansing system. Many colon cleansing products are in powder form and are very difficult to swallow due to their texture and taste. 7 Day Cleanse is the only complete colon cleansing product that we know that is totally in capsule form. The kit contains 21 convenient packs of capsules.
Just use one packet three times per day for 7 days. Simply throw a packet in your purse or lunch box and take it with you.
---
Label Information and Ingredients:
Suggested Use: As a dietary supplement, take one (1) packet mid-morning, one (1) packet mid-afternoon, and one (1) packet at bedtime for seven days. Do not exceed three (3) packets daily. Allow three (3) to four (4) weeks between cleansing cycles. This product should be taken in conjunction with a sensible diet high in fresh fruit and vegetables and six (6) ounces of water eight (8) times a day.
Supplemental Facts

Serving Size: 3 Packets

Main Ingredients

Amount Per Serving

%Daily Allowance

Psyllium (husks)

4,500 mg

*

Flaxseed

2,000 mg

*

Cape Aloe (aloe ferox powder)

500 mg

*

Black Walnut Powder

500 mg

*

Cascara Sagrada (herb powder)

600 mg

*

Spirulina

250 mg

*

Senna Leaves (herb powder)

100 mg

*

Fennel Seed (herb powder)

100 mg

*

African Bird Pepper (herb powder)

100 mg

*

Proprietary Blend consisting of: Garlic, Red Clover, Fenugreek, Quassia Wood, Black Cohosh, Red Sage, Goldenseal, and Gum Arabic

250 mg

*

*Daily Value Not Established



Other Ingredients

: Gelatin, magnesium stearate, and stearic acid.

Caution: Do not exceed recommended dose. Read and follow directions carefully. This product contains cape aloe (Aloe ferox), cascara sagrada, and senna leaves. This product is not intended for pregnant or nursing mothers or children under the age of 18. Do not use this product if you have abdominal pain, diarrhea or loose stools. Do not use this product for more than one week or exceed the recommended daily dose. Rectal bleeding and/or failure to have a bowel movement after the use of a laxative formula may be an indication of a more serious condition. Should this occur, or if you have a known medical condition and are taking medication, consult your physician prior to taking this or any dietary supplement.

Allergen Warning: Contains tree nuts (Black Walnut).

Keep out of reach of children.

Do not use if safety seal is damaged or missing.

QUALITY AND POTENCY GUARANTEED
---
These statements have not been evaluated by the food and drug administration. The products mentioned are not intended to diagnose, treat, cure or prevent any disease. Always see your licensed health care professional for proper diagnosis and treatment.