Scooby-Doo: The Movie / Scooby-Doo 2: Monsters Unleashed Double Feature...
Scooby-Doo: The Movie / Scooby-Doo 2: Monsters Unleashed Double Feature (Full Frame)
---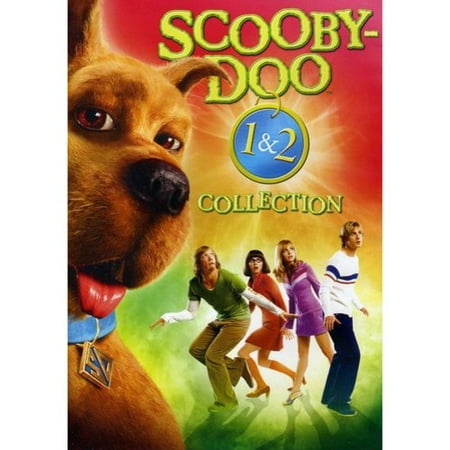 Product Details
Aspect Ratio: Full Frame
Edition: First
Duration: 179
Studio & Production Company: Warner Home Video
Record Label: Warner Bros.
Brand: Warner Bros.
Movie Genre: dvd - LIVE ACTION
Original Languages: English
Director: Raja Gosnell
Actors: Freddie Prinze, Jr., Sarah Michelle Gellar, Matthew Lillard, Linda Cardellini, Rowan Atkinson
Condition: New
Manufacturer Part Number: 2-MONSTERS
Color: Y
Container Type: PACKAGE NOT AVAILABLE
Features: <li>CHILDREN/FAMILY</li><li>Run Time, 1/21/2014</li><li>PG</li></ul>, 186</li><li>Release Date
Assembled Product Dimensions (L X W X H): 0.60 x 5.40 x 7.50 Inches
Release Date: 02/10/2009
Manufacturer Product Id: 2-MONSTERS
Manufacturer Name: TIME WARNER

Laughs and scares aplenty are unleashed in these two popular live-action/computer-animation romps featuring Fred (Freddie Prinze Jr.), Daphne (Sarah Michelle Gellar), Shaggy (Matthew Lillard), Velma (Linda Cardellini) and that canine you-know-doo. The Mystery Inc. gang reunites in "Scooby-Doo: The Movie" (Side A) to find out what's behind the jinky-jittery goings-on at Spooky Island, the Spring Break hot spot run by Emile Mondavarious (Rowan Atkinson). "Scooby-Doo 2: Monsters Unleashed" (Side B) finds our heroes with their hands and paws full trying to find out why Coolsville is overrun with monsters the pals thought they'd defeated years earlier...but now the beastly beings are b-a-a-ack. Doo the fright thing, Scooby-Doo fans, and enjoy.

Actor Commentary, Behind The Scenes Featurette, Deleted Scenes, Documentary, DVD ROM, Trailers.

Never-Before-Seen Footage; Two Player "Spooky Island Arcade" Challenge; "Land Of A Million Drums" Music Video; Weblinks to Cool "Scooby-Doo" Stuff; Big Brovaz's "Thank You (Falletin Me Be Mice Elf Again)" and Simple Plan's "Don't Wanna Think About You" Music Videos; "Dancing Dog: How They Made Scooby-Doo Dance"; "Triple Threat Featurette: A 'Scooby-Doo' Insider Tour Of The Moviemaking Process"; "True Ghoul Hollywood Story"; 2 Audiovisual Puzzles To Solve: "The Scooby-Doo Monsters Unleashed Challenge" and "The Mystery Of The Missing Pants".