Oregano Oil 100% Wild Mediterranean, 70% Carvacrol, Strong Immune System Support
Regular price $42.50 Sale
Is made only from wild, mountain-grown, Mediterranean oregano that is free of all chemicals and pesticides.

Is standardized to 70 percent carvacrol.

Provides strong immune system support.
1 Bottle of 2 Fluid Ounces - 6 Month Supply
Always latest Expiration Date. Shipped direct from Manufacturer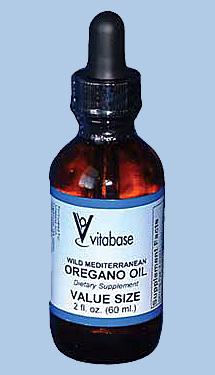 Oregano: Powerful Oil for Immune Support
Oregano, or Origanum vulgare, a member of the mint family, is widely cultivated in the Mediterranean countries. Early Greek physicians used oregano oils to aid in healing wounds, relieving headaches, and even counteracting hemlock poisoning. Modern-day researchers have discovered other uses for oregano, especially its antioxidant properties.
Numerous scientific studies have verified the medicinal properties of high-grade oregano oil. Several studies have shown that oregano oil can destroy or inhibit the growth of a number of strains of bacteria, fungi, and parasites. A 2000 study in the Journal of Applied Microbiology showed oregano oil to be effective against 25 different bacteria. A 2001 study by researchers at the University of Tennessee confirmed oregano oil's antibacterial function. A 1988 study published in the International Journal of Food Microbiology indicated oregano oil to be effective against nine different fungi. Further studies must be done before specific health benefits can be established.

When choosing oregano oil, it is important to be certain it is true oregano. Many products on the market that claim to contain oregano oil are actually composed of thyme or marjoram oil, which do not possess the same beneficial qualities as oregano oil. It is critical to ascertain that the primary component of your oregano oil is carvacrol, not thymol. The highest-quality oregano oils are made from wild-harvested oregano grown in the Mediterranean mountains. You can use Vitabase Oregano Oil with confidence, knowing it is high quality and standardized to 70 percent carvacrol.
Label Information and Ingredients:
Suggested Use: As a dietary supplement, adults take (4) four drops as needed or, as directed by health care professional. Store in a cool dry place.

 
Supplemental Facts
Serving Size: 0.1 ml 


Ingredients
Per Serving
% DV
Oregano Leaf Oil (Origanum vulgare) (Standardized to 70% [28 mg] carvacrol)
40 mg
*
* Daily Value Not Established


Notes: Wild Mediterranean Oregano Oil. 

Other Ingredients: Cold-pressed extra virgin olive oil (60% by volume).
Contains No Added: sugar, salt, dairy, yeast, wheat, corn, soy, preservatives, artificial colors or flavors. 

Caution: Keep out of Reach of Children.


PAYMENT
PayPal is the only payment method we accept. If you are new to eBay, please sign up for a PayPal account. I am happy to work with and help someone who is new to eBay. If you have questions, please feel free to contact me.
Buy-it-Now purchases require payment at time of purchase.
SHIPPING
Your purchase will ship within 3 business days. Most orders ship the day after purchase. You will receive an e-mail with the expected shipping day and a confirming e-mail, including tracking information, when your purchase is shipped. We use a variety of shipping methods including UPS, USPS Parcel Post and USPS Priority Mail.
Free Shipping via USPS to all U.S Addresses (Including Puerto Rico and Quam).
Only $1.99 for Shipping to Canada.
Please let me know if you have any questions.