Nickelodeon Favorites: Dance To The Music! (Full Frame) 097368230446
Nickelodeon Favorites: Dance To The Music! (Full Frame)
---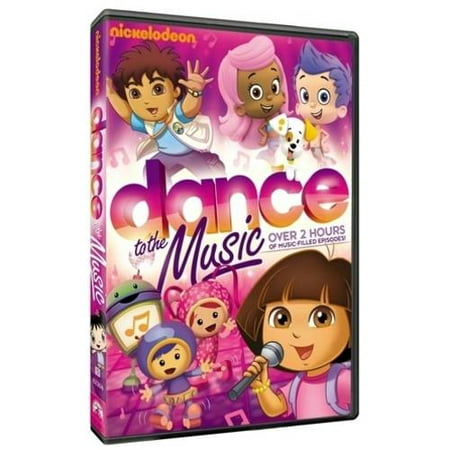 Product Details
Aspect Ratio: Full Frame
Edition: First
Age Range: 5 to 7 Years
Duration: 100
Studio & Production Company: Paramount Home Entertainment
Record Label: Nickelodeon
Brand: PARAMOUNT - UNI DIST CORP
Movie Genre: dvd - NICKELODEON
Original Languages: English
Actors: Teala Dunn, Danica Lee, Sofie Zamchick, Marc Weiner, Harrison Chad, Jake Burbage, Kathleen Herles, Sasha Toro, Rosie Perez
Condition: New
Manufacturer Part Number: FAVORITES:
Color: Y
Container Type: PACKAGE NOT AVAILABLE
Features: <li>CHILDREN/FAMILY</li><li>Run Time, 2/28/2012</li></ul>, 144</li><li>Release Date
Assembled Product Dimensions (L X W X H): 5.50 x 0.50 x 7.44 Inches
Release Date: 02/28/2012
Manufacturer Product Id: FAVORITES:
Manufacturer Name: NATIONAL AMUSEMENT INC.

Dance and sing on some really musical Nickelodeon play dates! Rock out with the Bubble Guppies! Dance with Team Umizoomi and help Dora on a music school adventure! Also, join Diego at the Iguana Sing-along, help the Wonder Pets save some musical friends, and have a groovy time with Kai-Lan.

Bubble Guppies Sing-Along Music Videos, I Need to Rock, Rock It!, , cc.