CoQ10 - 60 Softgels (50 mg) Heart Health
Regular price $24.99 Sale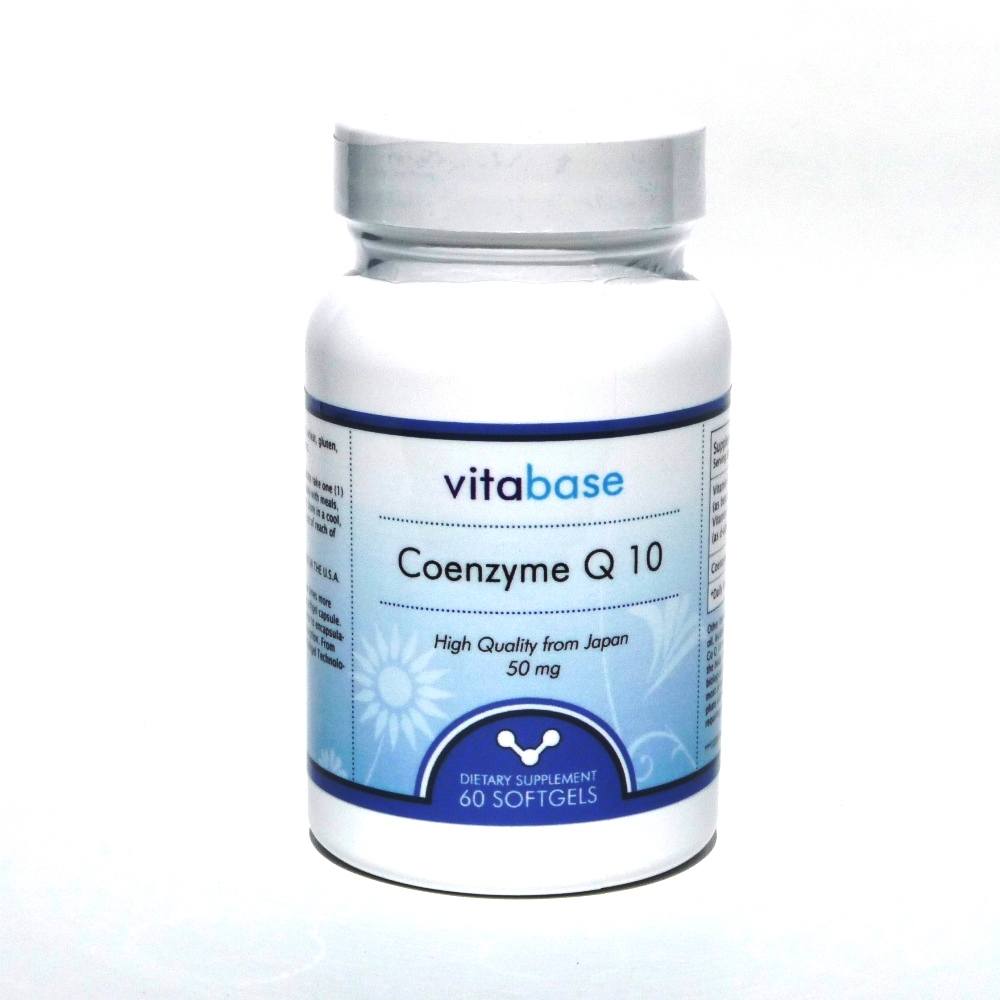 CoQ10 - 60 Softgels (50 mg) by Vitabase
$27.80
Helps Maintain Heart Health, Stimulates Immunity, Increases Cellular Energy

Provides powerful antioxidant essential for maintaining heart health.

Delivered in an oil-based softgel, making this CoQ10 three times more bioavailable than similar products.

Vitabase CoQ10 is dissolved in vitamin E oil before encapsulation to increase intestinal absorption.

Aids in energy production on the cellular level.

Each softgel contains 50 mg of CoQ10 from Japan
---
CoQ10: Essential Antioxidant for Good Health
Coenzyme Q10 is a fat-soluble nutrient more commonly referred to as CoQ10. CoQ10 is found in the mitochondria, the portion of the cell responsible for energy production. It also stabilizes cell membranes and functions as an antioxidant. Antioxidants scavenge free radicals (natural by-products in the body), which left unchecked may cause damage to the body.
Supports Energy Levels
CoQ10 is a biologically active quinone found in every cell of the body. It is a cofactor in the electron transport chain, the biological pathway in cellular respiration from which ATP and most of the body's energy are derived. It also aids circulation and stimulates the immune system.
A History of Heart Benefits
CoQ10 is used extensively in Japan, Russia, Europe, and Canada for patients suffering from congestive heart failure (CHF). Some studies have documented that up to 70 percent of CHF patients experienced some relief from symptoms related to CHF after taking CoQ10. CoQ10 may also help those struggling with some forms of cardiomyopathy. However, more studies are necessary before specific health benefits can be established.
Highest-Quality CoQ10 from Japan
Scientific studies show that CoQ10 is three times more bioavailable when delivered in an oil-based softgel capsule. Our CoQ10 is dissolved in vitamin E oil prior to encapsulation to increase the product's intestinal absorption.
---
Label Information and Ingredients:
Suggested Use: As a dietary supplement, adults take one (1) softgel capsule, one (1) to three (3) times daily with meals, or as directed by a health care professional. Store in a cool, dry place and away from direct light.
Supplemental Facts

Serving Size: 1 Softgel Capsule

Main Ingredients

Amount Per Serving

%Daily Allowance

Vitamin A (as beta carotene)

1250 iu

25%

Vitamin E (as d-alpha tocopherol)

50 iu

167%

Coenzyme Q 10

50 mg

*

*Daily Value Not Established

**Adenosine Triphosphate (ATP) is an energy-rich compound used for all energy-requiring processes within the cell.

*** From Co-Q-SolTM brand CoQ10 softgels made by Softgel Technologies.

Other Ingredients: Capsules (gelatin, glycerin, water), rice bran oil, lecithin, beeswax and annatto. Contains soy.

Contains no added: sugar, salt, dairy, yeast, wheat, corn, preservatives, artificial colors or flavors.

Keep out of reach of children
QUALITY AND POTENCY GUARANTEED
---
These statements have not been evaluated by the food and drug administration. The products mentioned are not intended to diagnose, treat, cure or prevent any disease. Always see your licensed health care professional for proper diagnosis and treatment.